"Hashiridasu shunkan", translated as "the moment you start running", is hiragana keyaki first album released in 20 june, 2018. This tracklist of 16 brand new songs is crucial in many aspects : Define hiragana personality, flavor, individuality. To showcase each hiragana member character and strength. To finally break from kanji keyaki under status. To have their existence acknowledged, it was necessary to make a solid release otherwise the momemtum break.  You can have a teaser of all songs here. For the moment they are at a decent 130k copies. Considering the spotlight is still on Kanji and the higher price of an album, i would say it's correct. Did they succeeded? Let's find out.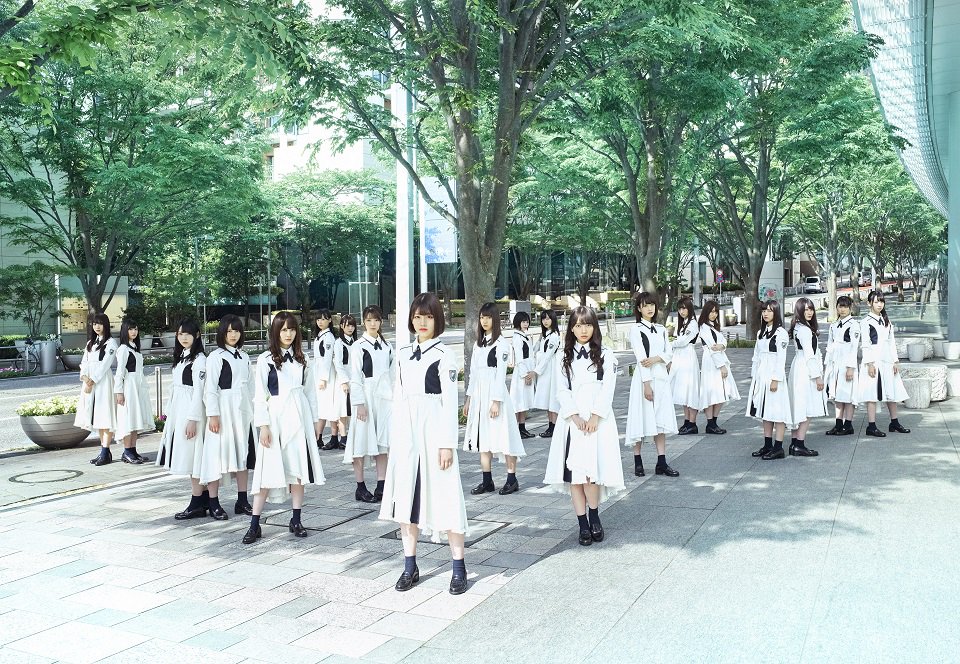 Already released songs
Soredemo Aruiteru (それでも歩いてる) :  Netflix's Re:mind coupling song. When you look back, it's the first time hiragana does something original that goes outside their "cute, conventional" idol image. Here we have an accoustic guitar that let the focus on hiragana members voice, like sasaki mirei and saitoh kyoko. The pace is slow, almost with a country feeling to it. The kind of song that you play with friends during an outdoor field trip. Does it match with Re:mind? I would say yes, but i can't say why because it would spoil the drama. It makes sense at the end of the series. Overall a decent song but not catchy enough to be memorable. You remember the song if you have seen the mini drama, but not because it was musically thrilling.
rating : B
Ima ni Mite iro (イマニミテイロ) :  I like the song because it has a personal value in it. I think it wants to convey hiragana former feelings concerning their existence : they were confused in their direction; and worried they would progress forever as kanji under (this is legit if you look at Nogizaka under). A ballad focusing on members voice, especially of the official "vocal" trio sasaki mirei-saitoh kyoko-katoh shiho. The lyrics express worries and anxiety, but the high tone imply the hope to find their own identity. The scene were they perform without an audience is strong : whoever wants to watch us perform, we will give our best. It's a standard, but solid balad because it tells Hiragana history.
rating : A
NO WAR in the future : The first song with both first and second gen of hiragana keyaki. It's a powerful, upbeat tune that works well during concert. I would recommend watching the live performance with choregraphy (anything that involve TAKAHIRO-sensei works should be watched). This song show a different side of hiragana; a combative one, after cute "takaku tobe" and "boku wa tsukiatteru". Here we're not trying to show members appeal, but how they work together, as a group. With a lot of synchronized movements. It's a good opportunity for second gen to shine because thanks to this song formation, they can perform on equal footing as hiragana first gen. Lyrics are easy to remember and fans can sing along, it's catchy and stay in the head. Good point.
rating : B+
New songs
Kitai shitenai Jibun (期待していない自分) : The flagship (we have an MV) of Hiragana album. It's all about the bells man. A darker song than No war in the future, but as combative. The main chorus recall of a fight; like they want to express their "will" to fight and to exist. It's safe to say that kitai shitenai jibun is hiragana silent majority, also from how the MV has been shot. Few things remind you of all the girls having their moment (basketball, volley, music instrument) but not smiling like they usually do with their first track. With No war in the future, the other big release, Hiragana are taking a new direction : they were seen as the cute side of kanji, in opposition of kanji cool side. But now that they can do dark, cool song, they are calling for independence. This song is as important as the message sent by hiragana of their existence. It's like they are reborn.
rating : A
Senkouhanabi ga kieru made (線香花火が消えるまで) : Kanemura Miku, Tomita Suzuka, Matsuda Konoka are the unit of this B-side. Honestly i don't know much about those three; they are like bean sprouts. A b-side without an MV, you can only show off your singing skills. It's an interesting tune, and the voice are warm and much more mature than i thought. It remind me a bit of SKA and country style (perhaps because of the guitar). But there's no climax or original pattern, enough to be memorable. Same goes with the instrumental. it's not a bad song, but i would say it was a filler in the album and resources have been put somewhere else. There's someone who stand out in vocals. But i have no idea who.
rating : C+
Kirei ni naritai (キレイになりたい) : From an instrumental standpoint, the first thing i thought of the electric guitar is : AKB theater stage! For those who are familiar with A2, B4, K3, Kirei ni naritai should probably remind you of the hidden jewel from Stage setlist of AKB48. Instrumental is basic and heard countless time, but the smooth voices of the Kosaka Nao, Nibu Akari, Watanabe Miho trio makes the tune much enjoyable. Pajama Drive, Zannen shoujo, i could definitively put this song in a team B setlist. However, i don't think their voice are mature enough to make the song stand out; there's too much of "shy" in it. Because of that, their tone sounds kind of bland. Still decent.
rating : B
Mijuku na Ikari (未熟な怒り) : Unfortunately this is the kind of song that you listen everywhere, in every ido single as a B-side. Same instrumental, same pattern. I think it lacks originality and thickness. I'm being severe but the goal of this single is to find identity. Not exactly what i'm looking for if they serve me Mijuku na ikaru. Hanbun no kioku has much more impact to me when it comes to introduce me the second gem. The fact that i don't distinguish the voice between first and second gen with this song is kind of problematic. I need to be realistic; you can't have hits on the whole setlist. But Mijuku na ikari is definitively a filler.
rating : D
Natsuiro no Mule (夏色のミュール) : Interesting line up i must say, with  Iguchi Mao, Kageyama Yuuka, Takase Mana, Higashimura Mei. No one really stand out with their voice, but you clearly identify the cutesy tune as hiragana. For instance you could have given it to Nagahama neru. Does it add value to the album thanks to his originality? No, however you can't deny their attempt to be refreshing. I'm not against cute song (i like bathroom travel), but at least use instrumental and different rythm to make a track stand out.
rating : D+
Wazuka na Hikari (わずかな光) :  I like Sasaki mirei. Always positive, with a bright smile. She's tall but has this cuteness of a cute little girl. I had the chance to see her in concert, and she interacts a lot with the crowd. With this solo we have a goal : define an appeal from her, so she stand out. Nagahama Neru is easy : she's cute and girls next door, so we do smooth ballad. But for mirei, it has a faster pace. Mirei has a good control of her voice, but i can't call it powerful. In the end it's a pretty standard song, with a bland chorus. Such a shame because at the end of the song, we still don't know where to put mirei. Leader? Center? Cute? Cool? I know mirei from concert performance, but not thanks to her solo. To me it was a miss. Instrumental doesn't help at all.
rating : C
Otoko tomodachi dakara (男友達だから) : I heard good things about Katoh Shiho solo song. First, she was praised by teammates of her good singing skills. Aside from yuichanzu, we don't have power vocal so if what is said is true, katoshi can stand out pretty easily in keyakizaka. There's some part of the songs where she's hitting the high note, but aside from that it's a pretty common ballad. I was not impressed, it felt like the 64th ballad of Nishino Kana (and it's not a compliment). The kind of song you play in karaoke because it's safe. I don't feel any risk, any sparkling from her solo; if she has singing skills, it's not with this solo that she showed them. Objectively speaking, Katoshi does sing well, but so is many,many female artists in japan.
rating : C+ 
Knock o suru na! (ノックをするな!) : An erratic piano introduction reminding of Eccentric signature, an interesting chorus with a mix between solo lines (katoshi) and group lines (others) and you have a track that naturally stand out. This song is swinging, the rythm is bouncing. It's not building up power overtime, but i praise how they wanted to make things different. I would have make the instrumental solo a little bit more crazy, but still a good track in this album.
rating : B
Saizenretsu e (最前列へ) : It's the third hiragana 2nd gen only song. How much they are investing in them tells that they seriously wants to make hiragana a group on their own. (hiragana and kanji are both 21 now). Considering they already have hanbun no kioku as powerful song, a slow one with "saizenretsu e" makes sense. But then again, it's a typical idol song, with no thickness whatsoever. It's a recurring issue; because they are young and inexperienced, you can't really expect to go crazy on vocals or instrumental. I'm not dragging hiragana personally, there's many songs in Kanji that have this typical "safe" pattern song (Aozorra to marry autumn song for example). But making an album takes a lot of effort and resources, and i'm not supportive of quantity (16 original songs) over quality. I think the girls needs time.
rating : D+
Halloween no Pumkin ga wareta (ハロウィンのカボチャが割れた) : Interesting line up with Ushio Sarina, Kato Shiho, Saito Kyoko, Sasaki Kumi, Takamoto Ayaka. It's a sympathic song, slightly upbeat, with those small fast-pace line, and kyoko and katoshi being the main attractiveness of the song helps a bit. I would have use the synthetizer a bit more to enhance the "party" feeling. It's not a dance floor song, but the rythm is catchy enough to not be disappointing.
rating : C+
Oide Natsu no Kyoukaisen (おいで夏の境界線) : A decent B-side, but not good enough to be an A-side. This song tags along with "No war in the future" and "kitai shitenai jibun" as impactful, combative themed song of hiragana. The instrumental nor the vocals help this song to stand out, even though it has the same flavor as the two song mentioned above. Kitai shitenai jibun had bells, No war had catchy chorus. Oide has none, unfortunately. I think we're getting somewhere with the new hiragana flavor, but we're still missing something. I don't know, Rap? Bring paripi here.
rating : C
Yakusoku no Tamago (約束の卵) : We don't have a MV, but we do have a live performance. Maybe management implies this track is above the others. It's a typical idol song but it's powerful enough to do well in concert in my opinion. It can make a good B-side i think, it has the power but not the originality to stand out. It's comparable with a "Seifuku to taiyou".
rating : B-
Sharin ga kishimu you ni Kimi ga naku (車輪が軋むように君が泣く) : Same as Yakusoku no tamago, good candidate as a B-side, plus the extra heartfelt flavor to it that reminds me of W-keyakizaka no uta. The theme of bond, friendship always hits the fanbase like a truck. However here, it's not slow paced. Here you really feel they are all singing as one, so that makes a difference to me.
rating : B
Sanrinsha ni noritai (三輪車に乗りたい) : Mirei and Memi. This pairing is intriguing. Memi has the same vocal print than katoshi in my opinion. She looks like french doll but can maintain a strong voice. When it comes to chemistry, one voice doesn't take the upper hand on the other, but we're far from the synergy of yuichanzu. I don't see the combination of the two giving something above if they were both singing alone. It's interesting to notice that Mirei has the opportunity to show a powerful voice compared to her solo.
rating : C+
Konna Seiretsu o Dare ga saseru no ka? (こんな整列を誰がさせるのか?) : Compared to monotone typical idol song, this one has the merit to choose a different rythm, more upbeat. It still has the idol flavor with the instrumental. I really like how they use the 3 main vocal as solo introduction. Mirei, Kyoko, katoshi shows they can take the lead in a song and that's a good thing. With this song they took more risk, and that should be rewarded.
rating : B
Igokochi waruku Otona ni natta (居心地悪く大人になった) : Katoshi and Mirei can sing. They can control it. But Kyoko with her low tone, husky voice, is naturally gifted with a noticeable voice. Not only she's a good singer, but she has trait that can make the song producer work easier. Here it's a simple accoustic guitar, simple music line where Kyoko can let her voice flow out. I heard she did the recording in one take, and you can feel it. Do hiragana staff have a thing for country, accoustic guitar? Well, i can say that out of the 3, Kyoko has the most distinctive of all solo. She is already the most recognizable face of Hiragana (she center 2 songs already) thanks to her ramen personality, so she will probably have her chara strenghtened after the solo release.
rating : B
Warenai Soap Bubble (割れないシャボン玉) : Kawata Hina, Hamagishi Hiyori, Miyata Manamo. Their names probably won't ring you a bell. Me neither. But with this perfume-like soundtrack, echo call pattern, and use of high notes, it's probably on of my favourite tune! It really stand off, like a great surprise. The song makes you feel like playing hide and seek, using high and low note. It's catchy and childish at the same time. I'm enjoying it.
rating : A-
Hiragana de Koi shitai (ひらがなで恋したい) : An "eien no hakusen" like. Balance is key to have a solid release : a bit of cool song, a bit of idol song. Here "hiragana de koi shitai" is another addition to hiragana cute setlist. Nothing revolutionary, but if you're an idol fan, you expect your daily dose of idol song. But here it's typical, nothing really stand out. I admit it's hard to keep idol standard and at the same time, tweak it to make it original or different to other tune. Unfortunately here, we're missing the tweak and it becomes another idol song among other.
rating : C+
Conclusion
Did they manage to raise as a different, independant group of Kanji Keyakizaka? I would say yes. Looking at their outside activity, variety show, solo tour, they did succeed. Did they manage to find their own individual, unique flavor that would make fans says "so it's hiragana keyaki"? i'm slightly hesitant on that. Compared to the extremely good "Masshirona Mono wa Yogoshitaku Naru" of Kanji with a dark, disturbing narrative as guideline, i think "hashiridasu shunkan" has yet to find their trademark songs to earn what we call "identity". Don't get me wrong, identity is to me what should all idol aim at : The ultimate appeal is to bond with fans for who you are. And this is a goal incredibly hard to reach.
I think management has responsability in it. I know they need to keep some consistency in songs (we're not going for hard metal, are we), but i have seen a much diverse instrumental in Kanji album than in Hiragana's. I don't believe there's a budget difference. Problem to me is that a lot of songs in hiragana looks the same. I think that they had a disadvantage the moment they started as opposition of Kanji Keyaki : Hiragana were in charge of the cute/fun, and since those theme are much more rooted in idol history, there was a chance to have an harder time to stand out. By playing the cool, dark side, kanji is naturally led to stand out. And with Yurina.
Speaking of individual, it's too soon to have everyone show their traits to the fanbase. Of course, since they've been around longer, some members of hiragana benefited from this album. It's obvious Saitoh Kyoko, Sasaki Mirei and Katoh Shiho are the big winners of this release, thanks to their distinctive powerful voice. Others are being laid on the back but there's nothing to be frustrated for : this album was to build hiragana as a distinctive group, and needed group song. Rookies need to exploit what's given to them and take the time to grow. They should put all their energy on the few screentime they have, like Keyabingo and Hiragana oshi. Then, maybe they get a sub unit in another release. While Kousaka nao is a exception with her impressive gravure workload, hiragana second gen should not have their hopes up and take their time. From what i've seen on TV, they are already really promising.
I'm not disappointed, but i'm not impressed either. My point of view can change from concert performance. More daring in instrumental, better use of hiragana members voice, keeping up the good live performance. Still, i haven't given up on more collaboration between Kanji and Hiragana. Teaming up not as regular and under, but definitively as equal.
Overall rating : B-