On recent newspaper, it has been announced that the sakamichi group (nogizaka&keyakizaka) will hold audition to recruit new members. It is the first time they have this kind of audition, with approximatively the same mechanism as AKB draft. Few girls will be selected and be recruited to join either Kanji Keyaki, Nogizaka and Hiragana. Also, group members will join event called "seminar" to see participants, and possible talk with them about being an idol.
There's 2 interpretation of this official statement :
first, that Hiragana and Kanji are being built separately. Hiragana is not Kanji under by any means, not in management nor in style. It could imply that the push between the two entities will balance. It was already significant with hiragana solo lives, Re:mind drama, and solo album. That also resolve the issue regarding Kanji development beyond the 21 former members : thanks to this audition, Kanji can expect members with the same style without having to be an hiragana first.
Second, management goal is to invest in Sakamichi group growth trough massive recruitment. It's quite legit for Nogizaka, as the royal guard (Nanase, Shiraishi mai, Ikuta Erika) is getting "old" in idol standard. Perhaps they have an handful of projects that Nogizaka third gen is not enough to take care of. Management has been comforted by this logic as Nogizaka 3rd gen representative (Yoda yuuki, kubo shiori, yamashita mizuki) has been on a popularity roll recently. Same as hiragana second gen, who has convincingly sold out their handshake slots.
To send members to meet potential trainees is interesting, as members might take part in recruitment decision. Kanji,Nogi and hiragana have all different flavors so members voice are useful to recruit those who meet the group criteria. Even though people would not understand why hiragana second gen, who have only debuted 6 month ago, are going to those seminar, i think it would help them figure out such competitive environment that is the idol world. They can learn from this experience.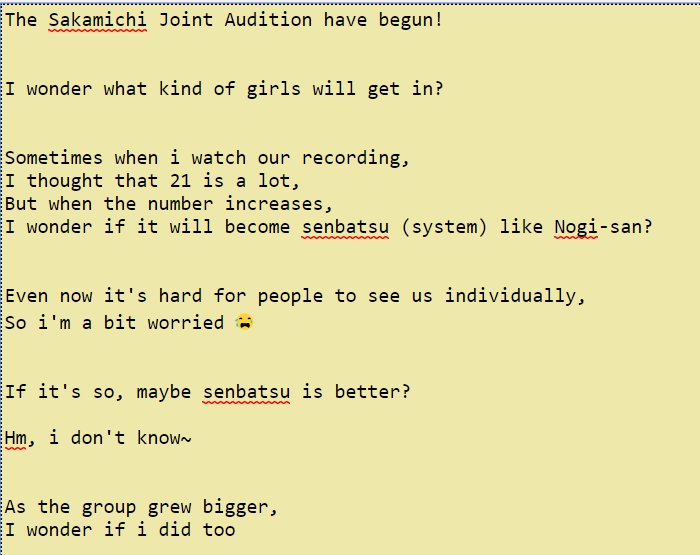 Nagasawa nanako blog sample credit : @toomuchidea
However, from a Kanji first gen point of view, it might be concerning, as management goal is to sustain the group growth in tremendous speed, not giving enough time for everyone to mature their personality. Nagasawa nanako expressed her worries that visibility of not-so-popular members would be crippled, and to be honest i think she's right : in management mind, it's much more interesting to invest a lot in new blood to keep the hype on the group high, instead of trying to elevate all members to a medium level of popularity. The pattern would be as follow :
Recruit massively => Check who stand out => push them massively and give leftovers to others => Recruit massively again to fabricate dynamic.
It's quite a drawback. Those who can't keep up are out of the loop. Girls are being popular because they are "new" and not because they are "good". In the long term, members becomes good if we give them time and opportunity to shape up, but management is overlooking this phase. They are taking a big risk betting on short-term value (their handshake)? But i'm afraid that as long as handshake sells big, we won't see this stop anytime soon.
I've seen a lot of people being concerned by Keyakizaka integrity with such massive auditions these days. Kanji bond is undeniably strong, and adding more members would shake their equilibrium. If we look at Neru's case, no one's want to be an outcast. But my point is, adding new members will help Kanji change their mindset; if they are opened minded they can grow from this experience, and create new friendship from it. Now that hiragana will follow their own path, there's a risk kanji would be isolated in their own world. But new blood can prevent that. So i'm actually up for it.
-Gocchisama